With India's economy destined to be the 3rd largest in the World by 2030, most Companies with Global aspirations have established their network here to do business in India.

Towards this, if you are interested I can help you provide an office address in India, identify potential customers / suppliers, visit them locally on your behalf, provide you market intelligence, keep you abreast with the current market scenario, generate inquiries / quotations, establish a working relationship with prospective customers or suppliers and generally work on your behalf as your Business Consultant & Liaison Agent in India for a nominal consideration.

With several decades of Industry experience, I am sure you will find my assistance extremely useful in developing business for you here. Kindly let me know if you are interested in pursuing this direction please.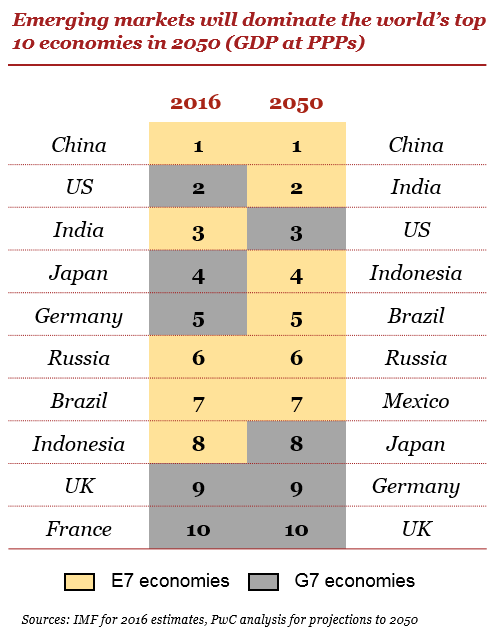 India's economy to become 3rd largest, surpass Japan, Germany by 2030

The estimate by the United States Department for Agriculture Economic Research Service (USDA) assumes the Indian economy will expand annually at an average 7.4% to $6.84 trillion by 2030. This will make it bigger than that of the economies of Japan ($6.37 trillion) and Germany ($4.38 trillion)

Read full report here…..https://www.hindustantimes.com/business-news/india-s-economy-will-become-third-largest-in-the-world-surpass-japan-germany-by-2030-us-agency/story-wBY2QOQ8YsYcrIK12A4HuK.html
The World in 2050
The long view: how will the global economic order change by 2050 ?
Key findings according to a PWC Study :
This report sets out our latest long-term global growth projections to 2050 for 32 of the largest economies in the world, accounting for around 85% of world GDP.The world economy could more than double in size by 2050, far outstripping population growth, due to continued technology-driven productivity improvements
Emerging markets (E7) could grow around twice as fast as advanced economies (G7) on average
As a result, six of the seven largest economies in the world are projected to be emerging economies in 2050 led by China (1st) & India (2nd)
The US could be down to third place in the global GDP rankings while the EU27's share of world GDP could fall below 10% by 2050
UK could be down to 10th place by 2050, France out of the top 10 and Italy out of the top 20 as they are overtaken by faster growing emerging economies like Mexico, Turkey and Vietnam respectively
But emerging economies need to enhance their institutions and their infrastructure significantly if they are to realise their long-term growth potential.

Read full report here :
https://www.pwc.com/gx/en/issues/economy/the-world-in-2050.html